Types of Frames
The framing business has style trends similar to the fashion and home decorating industries. In order to keep pace with ever changing trends The Frugal Framer strives to offer its customers the widest variety of current designs for all types of framing projects.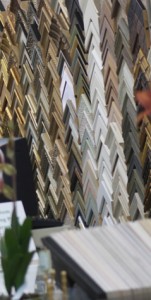 Our selection includes, but is not limited to; Metal frames for posters or prints, shadow box frames for medals, baseballs, sports jerseys or a cherished collection, wood frames for oil paintings and watercolors, gessoed frames for impressive statement pieces, floating frames for gallery wrapped canvas paintings and MDF frames ( maximum density fiberboard) for handsome, yet cost effective projects . An assortment of finishes besides the ubiquitous wood grain includes color washed, glazed finishes, metallic coatings, acid washed surfaces, gold and silver leaf, textured rustic veneers and simple, bright, primary colors.
As a custom piece or a standard Ready-Made frame, we have the molding style, color, size and profile to suit everyone's taste.
Many customers come to us with damaged or broken frames that they would like to have repaired. While we would like to accommodate everyone The Frugal Framer is only able to repair a frame to the extent that we can cut it down slightly and make the entire piece smaller. This service is limited to certain types of wood frames that will work with our cutting equipment. For more extensive, complex repairs we suggest a frame restoration expert; however, it is best to bring your broken frame into The Frugal Framer where we will be happy to assess the damage and make recommendations.
VIDEO | About Frugal Framer
FACEBOOK